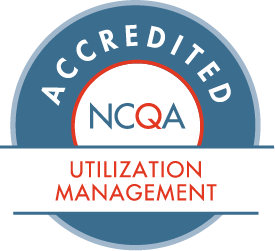 The National Committee for Quality Assurance (NCQA) has PA Logic Solutions a three-year Utilization Management (UM) Accreditation. Over the past year, PA Logic Solutions' clinical and quality teams participated in the NCQA review process and quality assessment program. The overall purpose of the NCQA UM certification is the continuous improvement of PA Logic Solutions' internal processes and its communications with its clients. Based on the NCQA evaluation and survey, PA Logic Solutions scored 99.06% and will hold this certification for three years.
"Achieving NCQA Utilization Management Accreditation demonstrates that PA Logic Solutions has the systems, process and personnel in place to conduct utilization management in accordance with the strictest quality standards," said Margaret E. O'Kane, President of NCQA.
"This is an outstanding achievement for our clinical and quality teams and a testament to their hard work and adherence to quality assurance guidelines and benchmarks," said William R. Mixon, President of PA Logic Solutions.
About PA Logic Solutions
PA Logic Solutions is a privately held company headquartered in Auburn, Alabama providing clinical services for the pharmacy prior authorization (PA) process, including software, criteria, and review services. PA Logic Solutions has provided PA services for more than 15 years and delivers these services for more than six million lives. PA Logic Solutions' comprehensive PA outsourcing services are powered by PALogic, its web-based workflow system, for prior authorization management. For more information, please visit: palogic.com
About NCQA
NCQA is a private, nonprofit organization dedicated to improving health care quality. NCQA accredits and certifies a wide range of health care organizations. It also recognizes clinicians and practices in key areas of performance. NCQA's Healthcare Effectiveness Data and Information Set (HEDIS®) is the most widely used performance measurement tool in health care. NCQA's website (ncqa.org) contains information to help consumers, employers and others make more informed health care choices. NCQA can be found online at ncqa.org, on Twitter @ncqa, on Facebook at facebook.com/NCQA.org/ and on LinkedIn at linkedin.com/company/ncqa.
*NCQA has reviewed and accredited PA Logic Solutions' Utilization Management functions only. For complete details on the scope of this review, visit www.ncqa.org.